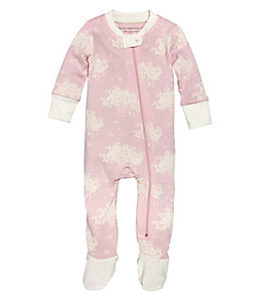 This post contains affiliate links. Thanks for your support!
So you bought the organic mattress and the organic sheets. You found a beautiful wooden crib and painted the nursery with VOC-free paints. You are confident that your sleeping baby will be resting on materials free from harmful chemicals. But what about those fabrics that separate baby from the bed?
Pajamas and other clothing come closer to baby's skin than just about anything else, so it is important to choose jammies that are made with the safest materials. Many children's pajamas on the market contain flame retardants (usually PBDEs). PBDEs have been linked to thyroid disruption, early onset of puberty, cognitive problems and delayed mental and physical development. And flame retardants can leach out of fabrics. If you are worried about flammability but want to avoid flame retardants, your other option is to choose snug-fitting pajamas made from natural materials. Organic materials are even better because then you can avoid bleach, dyes and other additives.
Be aware, flame retardants aren't only in children's pajamas. They are also found in  car seats, strollers, changing pads, toys, furniture, mattresses, cell phones, remote controls and many other commonly used goods.  If you see a tag that says something about complying with California TB 117 flame retardant regulations, than the product probably has a dangerous flame retardant.
Looking for safer options for children's and babies' pajamas and sleepwear? Here is a list of some snug-fitting, organic, flame-retardant-free pajamas for kids:
Hanna Andersson – Besides being super cute, Hanna Andersson pajamas are organic, growing without chemical pesticides, fertilizers or GMOs and are available for kids of all ages. According to their website, "Over 60% of all hannas are certified by OEKO-TEX® Standard 100, which means they're tested down to the very last strand of thread for over 100 harmful substances, using strict European certification standards."
Gap – You can find organic sleepwear for babies and toddlers on the GAP website. And they always have the sweetest prints.
New Jammies – 100% organic cotton jammies in playful images such as rainbow unicorns or sailboats n'waves.
Burt's Bees – Burt's Bees has expanded into sleepwear for babies and kids up to age 5! Their tight-fitting pajamas are made from 100% organic cotton and come in styles such as rugby stripes, camo or henley.
Under the Nile – These pajamas for babies and big kids are made from 100% Egyptian organic cotton that is GOTS certified, made at a fair trade farm, and contains absolutely NO Azo colorants, BPA, flame retardants, formaldehyde, fragrance, PVC or lead.
Beryl of Monkeys – These pajamas are made from ethically produced 100% organic cotton. They come in soothing colors and patterns perfect for a sleepy baby.
Dordor & Gorgor – Pure organic cotton pajamas dyed with 100% natural coloring.  Their products are flame retardant free, pesticide free, dye free, bleach free and chemical free. The company does note that the colors may fade with washing.
For more information about safe sleeping options for your kids, see my posts on:
Want more One Part Sunshine?  Here's how: