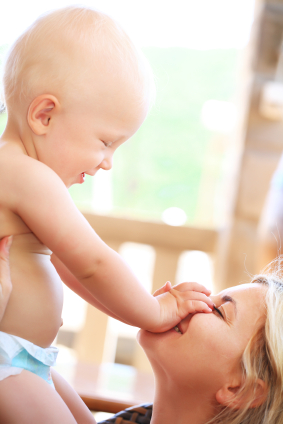 Other than diapers, the products that come in contact with your baby's bottom most often are wipes. Conventional wipes are typically bleached with chlorine and contain alcohol, artificial fragrance and synthetic ingredients that can irritate your baby's skin (see article on Personal Care Products). When released into the environment, caustic chlorine bleach can create organochlorides, which can potentially cause cancer as well as problems with your reproductive, neurological and immune systems.
The safest alternative to these conventional wipes is to simply cleanse your baby's bottom with plain water and washcloths or cotton balls.  Several companies now offer cloth wipes made from materials such as organic cotton, hemp and bamboo.  You can use them with plain water or a wipes solution made from natural ingredients.  And cloth wipes are reusable, which means that using them will keep disposable wipes out of landfills.
However, if you are looking for a more convenient option than cloth wipes, there are several companies that make disposable baby wipes free of harsh chemicals and chlorine.  These wipes use ingredients ideal for baby's sensitive skin such as aloe vera, vitamin E and water.  Look for wipes that are made from natural ingredients and be sure to check the labels.