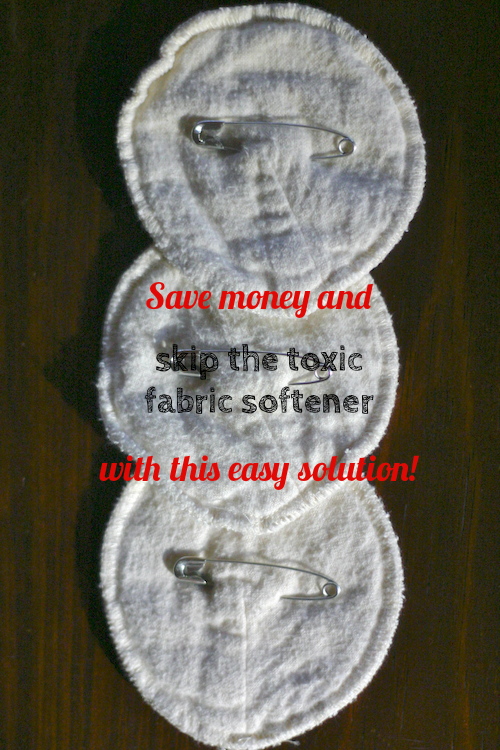 I have been using white vinegar in my washing machine rinse cycle for years now. My clothes come out of the dryer smelling fresh and feeling soft. But until now, I haven't been able to get rid of the static cling.
The solution has come in the form of something incredibly simple and inexpensive . . . safety pins! I'm not sure how it works, but somehow the combination of white vinegar in the rinse cycle and metal safety pins in the dryer completely gets rid of static.
Of course you can't just throw the safety pins in the dryer. This is where I took the opportunity to reuse my organic wool nursing pads. I just pinned a safety pin onto each pad and then I throw a couple in the dryer with each load. I keep a stack of them in case I temporarily lose one in the laundry.
When the clothes are in the washer, I add about 1/4 to 1/2 cup of white vinegar to the rinse cycle. Sometimes I add a few drops of essential oil but I haven't found that this really leaves much of a scent on the final product. Also, to answer your questions in advance, vinegar does not leave a smell on the clothes once they are dry.
So now I never have to resort to conventional fabric softener which is usually full of toxic chemicals that have been linked to everything from nausea and dizziness to cancer and brain and nervous system disruptions.
Thanks so much to Becky at Glue and Glitter for the inspiration for this idea!
Want more One Part Sunshine?  Here's how: