The right sleeping arrangement is what works best for you and your baby.  Some parents choose to co-sleep with their child while other parents prefer the more conventional option of putting their child to sleep in her own room.  If your child is not in your bed, you don't have to be limited to a standard crib.  Other options include co-sleepers, portable cribs, moses baskets, swings and hammocks.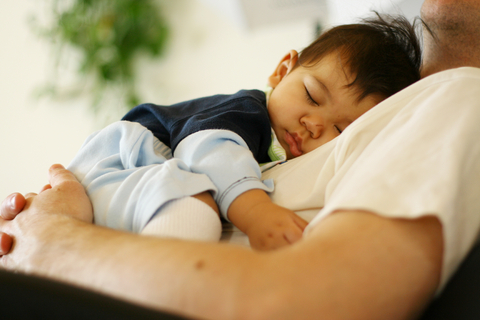 All About Co-Sleeping
More and more parents are choosing to co-sleep (share a bed or a room) with their babies.  There are different options for co-sleeping:
sharing the same bed (also referred to as "the family bed");
child sleeps in a crib or cradle next to parents' bed; or
child sleeps on a separate mattress next to parents' bed (for older children).
You aren't limited to one option.  You can try different arrangements for nap time and bed time or switch it up each night.  There is nothing wrong with being flexible and doing whatever works best for you and your child.
No matter what option you choose, you have to take certain precautions to ensure your baby is safe.  Use a mattress that is flat and firm and make sure there are no places where the baby can get wedged (such as between the mattress and the wall).  If the mattress dips at all – either because it is too soft or because you are a very large person, do not share a bed with your infant.  Use fitted sheets that are secure and stay away from comforters and pillows during the earlier months.  Use guardrails.  Make sure the room is child-proof in case your child gets out of bed during the night.  Reconsider the family bed if you are deep sleeper and cannot sense baby's movements, and never share a bed if you have been drinking or taking drugs or medication.  Do not leave your baby alone in an adult bed unless you are sure it is totally safe.
If you do choose to co-sleep with your child, you may wonder when to transition her into her own bed.  That is a choice that is up to you and your child.  Sometimes your child will let you know when she is ready.  Other times, you may be forced to make a change when a new baby comes along or when the bed starts to feel too cramped.
The Co-sleeping Debate
As with many other parenting issues, sharing a bed has been the subject of a great deal of debate.  And people feel very strongly about their positions on the issue.  Opponents of the family bed insist that the practice is risky and increases the incidence of SIDS.  Some children have difficulty transitioning into their own beds.
Advocates of the family bed argue that, not only is it safe, but it is the best sleeping arrangement for you and your baby.  Although the family bed is practiced throughout the world and has been for generations, it has only recently gained acceptance in our culture.  Breastfeeding moms are finding sharing a bed with their baby much easier than getting up repeatedly throughout the night.  The result is that both moms and babies sleep better.  And some experts contend that sharing a bed helps to deepen the bond between parents and baby.  Studies suggest that co-sleeping is actually safe, healthy and reduces the incidence of SIDS because parents are better able to sense baby and baby's needs.  For more information about the benefits of co-sleeping, visit Dr. Sears' website.
Regardless of the choice you make for baby's sleeping arrangement, be sure to choose only the safest and most natural bedding materials (see article about Green Bedding Materials).  Manufacturers are slowly recognizing the need for natural baby beds and have already created cosleepers, swings and bassinets structured from safer materials such as organic cotton and steel.  Pay attention to the type of padding used as well and avoid padding made with synthetic materials.