If you plan to replace or refinish the floor in your nursery, be careful about what you choose.  Traditional carpet is made from synthetic materials (usually petroleum-based), including nylon, polyester and olefin, which emit VOCs and other harmful chemicals.  One barrel of oil is used to make 450 square feet of carpet, which adds up to a lot of oil when you consider how often most people replace their carpets.  Most carpets use toxic chemicals for resisting moths, stains and fire.  And the base, padding and adhesive of carpeting often contains even more toxins.  Carpets are also known for being a haven for dust, mites, mold and mildew.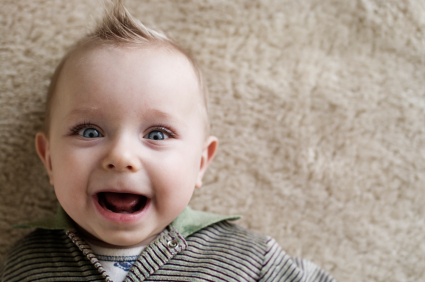 Your best bet for a new floor is to choose natural materials such as hardwood, natural linoleum, cork, formaldehyde-free bamboo or stone.  Reclaimed hardwood (meaning it has been salvaged from a previous use) is even better because it reduces the number of trees that are cut down.  Look for wood floors that are FSC-certified, meaning that the wood comes from a sustainably managed forest.  Your best wood choices are bamboo, cherry, fir, oak and maple.
If you already have hardwood floors and plan to refinish them, choose water-based stains and polyurethane (which emit fewer VOCs than oil-based stains) and give the floor plenty of time to dry before using the room again.  And, as with paint, do not work with stains if you are pregnant.  Avoid painting or staining anything right before you bring your new baby home.
If you are planning to use carpeting or to put in an area rug, choose one made from natural materials such as hemp, bamboo, wool, jute, coir, sea grass or sisal.  Wool is the most common natural carpet material and is naturally stain and flame resistant.  However, make sure you look for untreated wool rather than conventional wool that has been treated with stain- and moth-proofing chemicals.  You can also find carpeting made from recycled PET fibers, but while these are earth friendly, they are not natural.  Also look for carpet pads that are made from natural fibers such as wool, natural rubber or jute.  Avoid using chemical adhesives to glue carpet to the floor (use tacks or staples instead).  Try www.naturescarpet.com for natural carpet options.