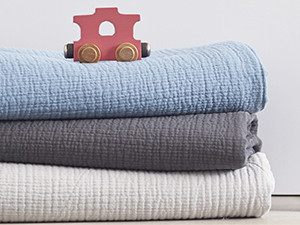 This post contains affiliate links. Thanks for your support!
When I was pregnant and shopping for baby gear, I gave the most attention to where my babies would sleep. After all, babies spend more time asleep than awake. Safety was my primary consideration – not just whether they would be physically safe and not roll out of bed or get their head stuck between the crib bars, but also whether they would safe from harmful toxins. Children develop at a rapid pace and their bodies are not always efficient at resisting or excreting contaminants. In other words, all of those toxins in the environment have a big impact on your growing child.
I chose bedding and mattresses constructed from organic, all-natural materials (see my post on How to Choose Safe and Natural Bedding for more information about why you should avoid conventional sleep products). When my son was born nine years ago, non-toxic bedding options were hard to find. Now, however, you can find safe, non-toxic bedding solutions online and even in big retails stores like Target.
Here is a list of some great non-toxic, natural bedding products for your babies and big kids:
Coyuchi – Although you may already know about Coyuchi's line of organic and natural sheets, comforters, pillows, and mattress pads for grown-ups, now they offer organic bedding just for babies and kids. Little Coyuchi is a line of organic, non-toxic bath and bedding products including sheets, comforters, mattress pads, mattresses, blankets, towels and pillows just for kids. Their products are not only beautiful and colorful (with nature-inspired, whimsical designs), but they are also super soft and comfortable, perfect for your growing babes. They sent me one of their washed matelasse stroller blankets, and I couldn't stop rubbing it against my cheek. Needless to say, my daughter is obsessed with it. Even better, their fabrics are produced from sustainably grown and minimally processed fibers that are free of toxic dyes, bleaches and finishes.
Magnolia Organics – Magnolia Organics offers 100% organic cotton crib sheets in bold colors or super-cute elephant prints. I have a set of their sheets on my king-sized bed. Although the sheets feel a little stiff (I'm hoping they will soften as they wear), they seem extremely durable (unlike the super-thin Target sheets that I have that are littered with holes) and the colors are beautiful.
Burt's Bees Baby – Burt's Bees, previously of chapstick and diaper cream fame, now offers organic crib sheets and blankets. If you like grey, this is the way to go (since most of their products seem to be in the grey or grey and white spectrum). I haven't tried their bedding products, but they seem to get pretty good reviews on Amazon.
Land of Nod – If you are looking for organic cotton bedding in sweet, soothing prints, check out Land of Nod's baby and kid collection.
Pottery Barn Kids – PB Kids has a great assortment of fun and bold prints for both babies and older kids.
For more information about safe sleeping options for your kids, see my posts on:
Want more One Part Sunshine?  Here's how: