You have probably heard about VOCs (or volatile organic compounds) by now.  VOCs include a group of chemicals that are emitted as gases or fumes and have been linked to allergies, asthma, headaches, rashes liver or kidney damage and cancer.  Traditional wall paints typically have VOCs.
The good news is that low- and no-VOC paint is now widely available.  You can find them at your local home improvement store.  However, these paints may also be host to a variety of other toxins, including formaldehyde, crystalline silica and other suspected carcinogens.  These chemicals are used as pigments, binders, stabilizers, insecticides, fungicides or preservatives.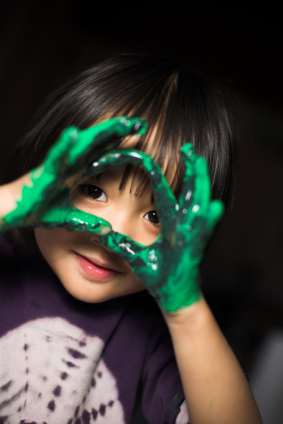 Completely non-toxic options can be found at specialty stores that focus on green building supplies and are also available online.  Non-toxic paint options include milk paint, non-toxic latex paint and paint composed from tree and plant oils and resins, herbal extracts, citrus-peel thinners, mineral and vegetable pigments and beeswax.  Some non-toxic paint options include:
If you are going to use paint with VOCs or other toxins, make sure you have plenty of ventilation while working and let it dry for several days before using the room again.  Definitely don't paint while pregnant as the effects of VOCs on the fetus are unknown.  To be safe, have the nursery or other rooms painted several months before baby is born.
Be especially careful if you plan to remove, sand or scrape old paint as it could contain lead if your house was built before 1978.  Lead paint can be dangerous if you breathe it in or if small children put it in their mouths.  It can be found in dust form too and can cause neurological damage.  Lead testing kits are available at your local hardware store or you can call your state health department.
Chalkboard paint is a popular choice for kids' rooms.  However, it typically has a ton of toxins (as is clear by its smell).  You can create your own chalkboard paint by mixing one pint of no-VOC latex paint with 3-4 tablespoons of powdered grout (found in the tile section of your local store).
Wallpaper is another source of toxins in the nursery.  The adhesive used to stick wallpaper on walls typically includes a variety of toxins.  Wallpaper itself is often constructed of synthetic materials.  You can now find non-toxic wallpaper options constructed of natural materials, such as cotton, hemp and jute.