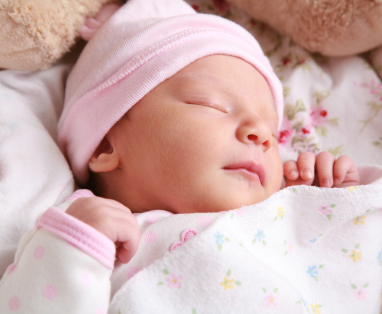 Most people spend about one-third of their lives sleeping.  So it makes sense that your sleeping environment should be as pure and natural as possible.  This is even more important for babies, who tend to be asleep more than they are awake.  Mattresses, sheets, and pillows are all potential sources of toxins.
Mattresses
Traditional mattresses are typically comprised of vinyl, polyester and polyurethane foam – all of which are petroleum products that contain toxic chemicals that can cause allergies and disruption of the immune and reproductive systems.  Some mattresses also have the carcinogens toluene diisocyanate and formaldehyde.  Crib mattresses often have waterproof surfaces composed of PVC, which has phthalates that have been linked to health effects including asthma, abdominal obesity, organ system toxicity, birth defects in male reproductive systems, and disruption of the endocrine system, brain, nervous system and immune system.  Traditional mattresses also tend to have a synthetic fire retardant containing PBDEs (polybrominated diphenylethers), which have been linked to cancer, thyroid problems, and brain dysfunctions.
Fortunately, natural alternatives to traditional mattresses exist but they usually can't be found in your typical mattress store.  Most natural mattresses are available through online stores, although there are some specialty natural mattress stores throughout the country.  Be careful about some mattresses that claim to be "natural" but actually contain only some natural materials along with a ton of toxic materials.  So read labels carefully and contact the manufacturer when you have questions.
Natural mattresses can be composed of a variety of materials, including organic cotton, wool, hemp, silk, natural latex and natural foam.  There are also natural mattresses made from natural fibers such as coconut husks, mohair and lamb's wool.  Organic cotton is the least allergenic of all the materials.  Wool is naturally resistant to mildew and dust mites and is a natural fire retardant so no PBDEs are necessary.  Hemp is also naturally resistant to mold and mildew.  Natural latex comes from Para rubber trees and is naturally anti-microbial, hypoallergenic and resistant to dust mites.  Natural mattresses can have steel innersprings or be constructed of a solid rubber core.  Natural boxsprings constructed of solid wood are also available.
Natural mattresses are pricey.  If you can't afford one, no need to worry.  You can reduce your exposure to the harmful chemicals in traditional mattresses by covering them with a wool, natural rubber or organic cotton mattress pad.  You can also try a mattress barrier cover which will completely enclose the mattress and reduce the amount of toxins that are released from it.
Linens
Typical bed linens are made with conventional cotton, polyester, nylon or other synthetic materials.  They often contain stain- and wrinkle-repellants and artificial dyes.  Even washing sheets does not remove many of these toxins.
One problem with traditional cotton sheets is that the cotton was grown with pesticides and insecticides.  Not only are these bad for the environment but they are bad for your health.  25% of the world's insecticides are used on cotton grown in the U.S.  The nine most used cotton pesticides have been classified by the EPA as the most dangerous pesticides.  Furthermore, the manufacture of traditional cotton linens also uses formaldehyde, bleaches, dyes and fertilizers.  Synthetic bedding typically comes from petroleum products, which contain toxic chemicals that can cause allergies and disruption of the immune and reproductive systems.
To avoid the risks associated with traditional cotton or synthetic bedding materials, look for linens made of chemical-free materials, such as organic cotton, bamboo or wool.  Keep in mind that "100% natural" does not mean pesticide- or chemical-free.
Pillows
Don't forget about pillows.  The most common pillows are filled with polyester, a synthetic fiber which comes from non-renewable resources and often has other chemicals such as flame retardants built in.  Look for natural pillows that are filled with goose down, wool, organic cotton, buckwheat, natural latex or kapok (seed fiber).  Don't forget to cover your pillow with an organic cotton pillow protector to block allergens and minimize how often the pillow needs to be cleaned.