Indoor air quality becomes extremely important when you have a pregnant woman or new baby in the house.  Everything from your television to your wall paint to your couch releases harmful chemicals such as VOCs and formaldehyde into the air.  According to the Environmental Protection Agency, indoor air can be as much as ten times more polluted than outdoor air.  Our homes are built for energy efficiency and everything is sealed up tight.  We aren't getting sufficient air flow through our homes to filter out harmful chemicals.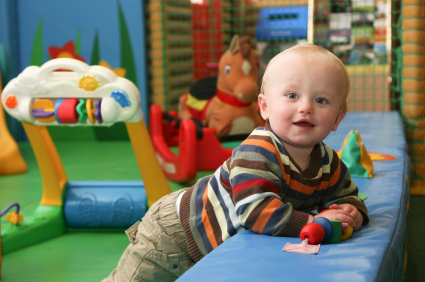 Americans are spending more and more time indoors, trapped with these dangerous toxins.  The result is an increase in asthma, allergies, cancer and chemical hypersensitivities.  Indoor air pollution is also suspected as being a factor in the occurrence of Sudden Infant Death Syndrome (SIDS).  We typically bring our babies home to a nursery that has just been painted with new flooring installed and new furniture – all of which are loaded with things like VOCs and formaldehyde.  They are breathing it in and ingesting it when they chew on the crib or suck on their toys.
Solutions
When decorating and furnishing your baby's nursery, you should select only safe and natural products.  Choose paints and finishes that have no VOCs and are composed of only natural ingredients.  Use only untreated, naturally-finished wood for your flooring and furniture.
Increase ventilation indoors by opening doors and windows more regularly.
Regularly maintain air-conditioning systems.
Spend more time outdoors.
Use house plants to clean the air.
Use indoor air purifiers.