This post contains affiliate links. If you buy something after clicking one of these links, we receive a small commission (at no cost to you). Help support One Part Sunshine and our mission to reduce toxins in your child's environment by purchasing all of your Amazon products through our affiliate links!
You do not need to use non-stick cookware. I have not owned a single non-stick pot or pan in thirteen years, when I decided to avoid non-stick coating at all costs. Why? Because it is full of pretty nasty stuff. Toxic chemicals in non-stick coatings have been linked to cancer, birth defects and more. When overheated, non-stick coatings have been shown to be fatal to plants and birds, so you can just imagine how it is affecting the health of our families. For more information about non-stick coatings, check out our article on The Dangers of Non-Stick Coatings.
Toxic non-stick coatings and the chemicals used in them can be found in pots, pans, cosmetics, paper food wrappers such as microwave popcorn bags, wrappers for greasy packaged and fast foods, paper plates, Gore-Tex, Scotchgard, Stainmaster, and other stain treatments and water repellents.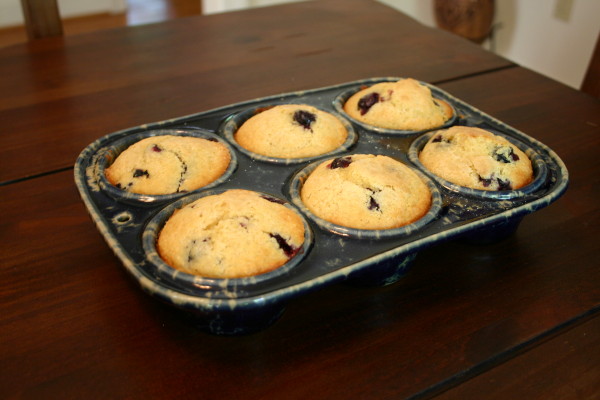 Here are some ways that I avoid non-stick coatings and other PFCs:
I always check the labels of personal care products for terms like "PTFE" or "perfluoro."  Choosing all-natural products is an easy way to avoid toxins.
I don't try not to eat greasy packaged or fast foods.
I use alternatives to non-stick cookware (see my list below).
I avoid non-stick utensils.  Instead, I choose utensils made from stainless steel, silicone, or wood.
I avoid clothing that is stain- or water-repellent or that has Teflon or Scotchgard.  Instead, I choose 100% cotton or wool or, even better, 100% organic cotton or wool.
I minimize my use of paper plates.  I try to choose reusable ones instead.  Ceramic or porcelain plates are great for regular meals.  If you are dining outside, try wood or stainless steel plates.  You can also find disposable bamboo plates at places like Whole Foods but I hate the idea of throwing these away. If you can't afford wood or stainless steel, reusable plastic plates are a better option than disposable plates – better for your health and better for the environment. Just avoid putting them in the dishwasher or microwave.
I skip the microwave popcorn bags and make my popcorn in a reusable silicone microwave popcorn maker with some organic popcorn kernels, salt and a tablespoon of butter or coconut oil.  I put it all together in the popcorn maker, microwave for 1 minute and 50 seconds, and it tastes way better than that bagged microwave stuff. You may have to experiment with the best cooking time for your microwave. You could achieve the same result with just a paper lunch bag but I don't like that these are disposable.
I use wooden rolling pins instead of non-stick or plastic ones.
Below is a list of all of the pots and pans that I use when cooking at home. I avoid anything non-stick and try to avoid anything aluminum.
Alternatives to Non-Stick Cookware:
SKILLETS AND FRYING PANS –
Cast Iron: Some of you may be thinking that you cannot scramble eggs or stir fry without a non-stick pan, but I am here to assure you that you can! You can't be afraid to use a little butter or oil, but you can minimize the use of fat with a well-seasoned cast iron pan. I use a Lodge cast iron skillet for just about everything, including scrambled eggs, apple pie and stir fry vegetables. Cast iron pans are affordable, easy to clean and last forever. I clean mine by carefully wiping them out with a damp washcloth while they are still hot. If stuff is really stuck on, I will scrub them with water and salt and then re-season by wiping them down with olive oil and heating in the oven. I store my cast iron in the oven so that it gets nicely seasoned every time I use the oven.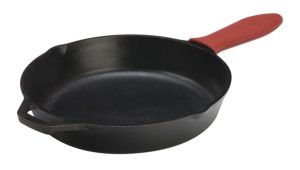 Stainless Steel: I prefer to use a stainless steel pan for scrambled eggs and crepes and also as my every day cooking pan, so I also make regular use of Lagostina stainless steel skillets. I have a 12-inch and an 8-inch skillet that I have been using for the last thirteen years. They cost a little more but they are worth the investment. I'm not sure if higher cost correlates with a better pan but I can highly recommend this brand. Another great option is All-Clad.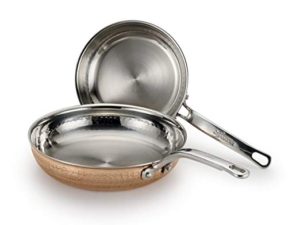 POTS AND SAUCEPANS
Stainless Steel: Most of my pots and deeper pans are stainless steel. You can invest in some of the nicer Lagostina or All-Clad pots but the cheaper Farberware ones work just as well. I use these pots for things like boiling water, heating milk, making sauces, and melting chocolate.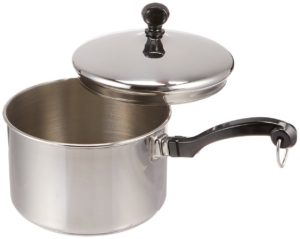 Enameled Cast Iron: I recommend that everyone have at least one enameled cast iron dutch oven.  I have a pumpkin shaped enameled cast iron dutch oven pot by Staub that I love and that everyone compliments. It is perfect for making chili or soups on a cold day.  Enameled cast iron also works well for just about anything else, including sauteing, baking, frying, grilling and more. I will often use my dutch oven in place of a skillet, especially for one-pot meals or when I am sauteeing meat or vegetables that will be used in a soup that I make in the same pot. It also works well when you are cooking a meal that starts on the stovetop and is moved into the oven. My favorite use of my dutch oven is for making pies, cobblers, and crisps. Another great brand for enameled cast iron dutch ovens is Le Creuset. I have a cheaper brand enameled dutch oven that I received as a gift. It works well but the enamel is starting to discolor and crack a little. I have not had this problem with my Staub pot.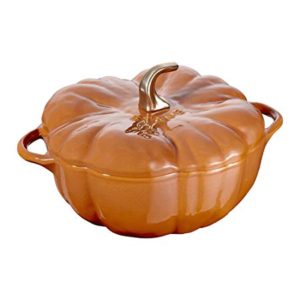 BAKEWARE
Stoneware or Ceramic: I discovered stoneware early in my journey to replace non-stick, and I fell in love. Baking muffins in a beautifully painted stoneware muffin pan gives you muffins that are evenly baked and look as amazing as they taste. I use stoneware bakeware for muffins, pies, breads and casseroles. I especially love the designs by Blue Rose Polish Pottery. Other options include Emile Henry and Le Creuset, which are both broiler safe.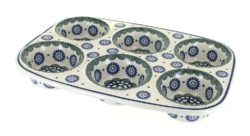 Stoneware can also be used as an alternative to aluminum or non-stick baking sheets. Stoneware baking or cookie sheets make perfect cookies and double as a pizza stone.
Stainless Steel: If you are broiling or otherwise cooking with high heat, you might not want to risk cracking your beautiful stoneware. Stainless steel is a good alternatives. You can find some nice stainless steel baking pans and sheets for reasonable prices from companies like Norpro.
Glass: Glass baking pans are a cheaper alternative to stoneware and enameled cast iron.  It isn't broiler safe but it makes decent cakes and casseroles. If you can't afford the higher costs of stoneware, definitely go with glass over aluminum or non-stick pans.
Editor's note: This post was originally published in June 2010 and has been completely revamped and updated for accuracy and comprehensiveness. 
Want more One Part Sunshine?  Here's how: