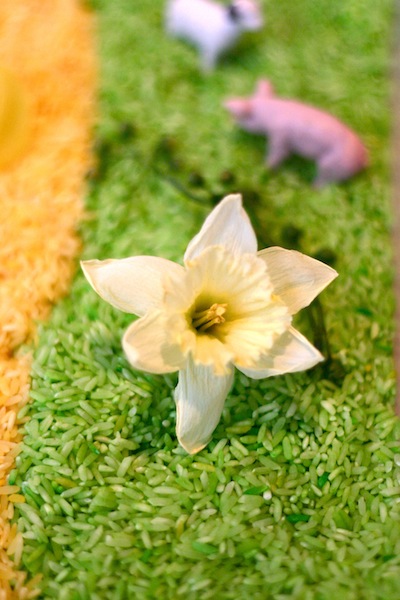 Sensory bins (or play trays) are an easy way to entertain kids of any age. I like to include natural elements in my sensory trays to expose my son to nature even when we are indoors. This spring play tray with rainbow rice is a fun way to give your kids a taste of springtime when it is too cold or rainy to go outdoors.
I started with the rainbow rice. This was simply a matter of dyeing 5 different ziploc bags full of rice. Here is the how-to:
Fill a one-gallon ziploc bag about half full with dry white rice (this is a good use for stale rice).
Add about a 1/4-cup of vinegar (or until your rice is damp but not soaking).
Add food coloring – the more you add, the more intense the color will be. I used liquid food coloring, but you could also use Kool-Aid. Seal the bags and shake until the color has been evenly distributed.
Do this for each color. Leave the bags open to dry (overnight would be best). Or you could spread the rice out on a cookie sheet to speed up the drying.
Once the rice is dry, pour into a bin or tray in sections to get the rainbow effect.
Add fun, spring-time objects to the play tray, such as toy animals (bunnies, lambs, pigs, etc.), real or fake flowers, plastic eggs, colorful rocks, and of course scoops or cups for scooping up the rice.

More Easter and spring crafts and ideas:
Want more One Part Sunshine?  Here's how: