Valentine's Day is yet another one of those holidays that has the potential for excess and waste.  Skip the cheap trinkets and artificial candies, and instead show your love with handmade gifts and all-natural sweets.  Or better yet, celebrate the holiday by spending quality time with your loved ones.
Organic Fair-Trade Chocolate
Choose Rainforest Alliance Certified chocolates so that you can be sure the cocoa was grown using methods that protect forests, soils and waterways on farms that provide decent wages, housing, education and health care to workers and their families.  These chocolates can be identified by the little green frog seal.  And choose organic chocolate to ensure that it isn't polluted with pesticides.  Some great choices include: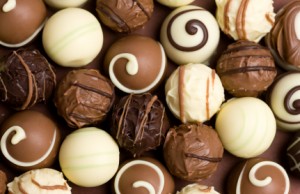 Handmade Cards and Gifts
Nothing says "I love you" better than something handmade.  It's easy to go to the store and buy a card but it takes a lot more time and effort to make something.  And you don't have to be an artist to make a beautiful card or gift.  There are a lot of great ideas on sites like Martha Stewart and FamilyFun.  Some of my favorites include:
See more ideas on my Pinterest Valentine's Day board.