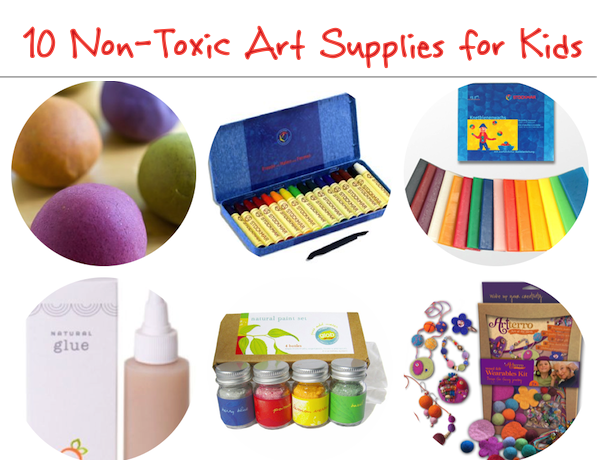 My son goes through art supplies like water. He loves to draw, paint, sculpt and create and has been artistic since a very young age. So of course I try to make sure that I choose the safest and most environmentally-friendly art supplies for him.
One of my concerns is trying to conserve the materials Monster uses without stifling his creativity. We try to reuse materials as much as possible. I cut cereal boxes apart so he can use the cardboard. I save toilet paper rolls for his sculptures. I give him the remnants of the yarn I use for knitting and the fabric I use for sewing. I save plastic food containers for storing art supplies and using for crafts. When we buy new art supplies, I try to choose those made from 100% recycled post-consumer and FSC-certified materials.
My primary concern is that the art supplies Monster uses are completely safe and non-toxic. Although he is old enough to not intentionally put stuff in his mouth, some of it still works its way in there. Many standard paints can contain toxic metals and solvents. Conventional crayons are made out of petroleum-based wax and pigmented with artificial colors. Modeling clay may contain PVC, phthalates and artificial colors.
When possible, I try to make his art and craft supplies out of household ingredients (more to come on this in a future post). When I purchase supplies, I always do the smell test – if it smells unnatural, it's probably made with unsafe chemicals.
Here are some of my favorite art and craft supplies:
1. Mama K's Aromatic Play Clay
This wonderful-smelling modeling dough is 100% natural and made with certified gluten-free flour. It is colored with natural fruit, flour and vegetable dyes and scented with organic essential oils.
I love that these crayons come in a professional-looking tin. And the quality and colors are amazing. It doesn't hurt that they are also non-toxic and made with pure beeswax.
3. e-color-gy Washable Markers
It's difficult to find truly eco-friendly markers because they are made out of plastic. This company does a decent job by offering non-toxic markers made out of 25% recycled plastic.
This chalk is AP certified non-toxic and made from 95% calcium carbonate.
5. Stockmar Natural Modeling Beeswax
This modeling material is natural, non-toxic and made in Germany. It can also be reused over and over so it's naturally eco-friendly.
These paints are natural, non-toxic and colored with dyes made from fruits, vegetables, flowers and spices.
7. Wee Can Too Edible Fingerpaints
These fun finger paints are all-natural, non-toxic, plant-based and made with organic ingredients. They are entirely edible and baby safe!
8. Clementine Art Natural Glue
Clementine glue is all-natural and non-toxic. And it works great! Plus, the packaging is made of 80% post-consumer recycled and reusable materials.
9. Pacon Neapolitan Construction Paper
Construction paper made from 100% recycled material.
These art kits are great for giving your child a little bit of artistic direction. They use things like 100% recycled paper and 100% wool felt.
For more eco-friendly and non-toxic art and school supplies, check out this list.
Check out my Pinterest board for ideas for kid-friendly arts and crafts.
See this post for ideas on how to organize your kids' art supplies.
Looking for eco-friendly school supplies? See this post.
Want more One Part Sunshine?  Here's how:
NOTICE: Blog posts on OnePartSunshine.com may contain affiliate links.  In other words, if you buy something after clicking on a link in this post, then the author might receive an affiliate commission.